Shopping Cart
Your Cart is Empty
There was an error with PayPal
Click here to try again
Thank you for your business!
You should be receiving an order confirmation from Paypal shortly.
Exit Shopping Cart
Giles Remodeling & Restoration
                       Brian R    Melissa     Andy G      Rob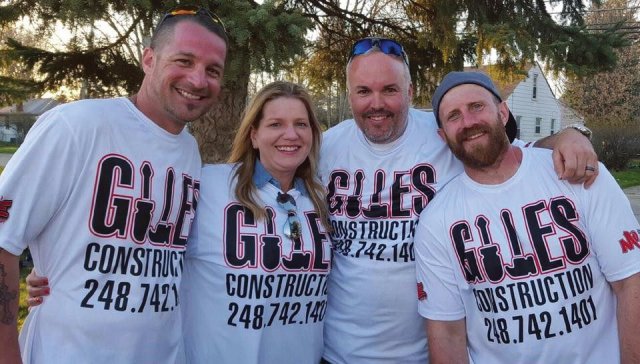 Brian Rehling is one of our Supervisors, he is also assumes the role of project manager. 
He has been with the company for almost 4 years. Brian enjoys 

spending time with his kids and playing softball with friends on a league. 
Melissa is my wife. 
There I am (Andy) President of Giles Contracting, I couldn't do it without the help of these guys, and the rest of the employees. Together we're all a great team and truly love what we do and take great pride in our work. I graduated from Western Michigan with a Degree in Advanced Tax Accounting, worked for a few places doing their finances. While in College I worked with a Builder and decided to do it on the side once I was done with College. I loved it, I had a passion for it. I decided to get my Builders License in 2000, and one day decided I wanted to do this full time. I have been doing Construction for 26 years now. 
Rob Septer is also a Supervisor and also project manager, he too has been with the company for almost years.  Rob also enjoys playing softball on a league with friends, when he isn't attending his son's softball games and tournaments. 
/